Dear Midnite Sun Members and Clients
We are OPEN for UV Sunbed Tanning, Versa Spa Spray Tans, Red Light Skin Care and purchases of our professional retail tanning and skin care products .
Our sanitation processes have always been top-notch and we've added additional measures to ensure the safety of both our team members and our clients. We feel that we will easily be able to adapt to the safety measures that our Governor asks of us.
Please know that this is not an exclusive list and we are asking you to remain fluid and adapt to changes.
Today's "rule" may be different tomorrow. I am sorry for this and apologize in advance but we must do what we can to stay open and keep everyone safe.
We have put many guidelines and training in play for our team and for you but here are some that are important to for you as clients:
Current Hours of operation:
Mon-Fri 10am-7pm
Sat 9am-4pm
Sun 11am-4pm
If you at the center and we are not open we apologize.
Please email info@thebettertan.com and contact us by messaging: https://m.me/midnitesunandcruise/
Unfortunately 2 locations are TEMPORARILY closed due to staffing issues. The good news is our other close by locations can service you with no problem. All Packages & Memberships have always been available for use at any Midnite Sun location.
Grandville Kenowa Plaza clients- Please visit BayBerry Marketplace 4.5 miles away or Crossings Mall in front of the theater.
Celebration Cinema clients- Please visit Alpine Ave( 5 miles away) or Cascade 28th street location.
We do not take appointments normally but Check-in at the counter for your "appointment"

No more than 10 people allowed inside at a time- if you are asked to wait outside please be kind to our team

The lobby is for clients only

Please bring your own towel- bed pillows have also been removed. Please roll your towel and use it as a pillow-like @ the beach

Please obey social distancing requirements

The Governor has stated that every one that is medically able to wear a mask in public should

Please wash your hands upon entry to the store.

Please do not enter if you have any COVID Symptoms (cough, fever, chills) or have been in contact with someone who is confirmed COVID

Please be patient as we work through our new system and requirements.

We have always used hospital grade sanitizer and are frequently sanitizing items such as door handles, counters, pens, restroom knobs and handles , sink, chairs and more ( and as always your tanning bed inside and outside , stools and door knobs and other touchable areas)

We are a no customer contact business, and can maintain social distancing requirements of 6 feet+
---
We heard lots of positive effects of SunShine during this event!! Did you too???????!!!! We have known it all along!!! So excited that Sunshine and heat have been recommended!!!!!!!!
Please share the word that we are ready to Sunbed, Spray Tan and Red Light all of West Michigan! Thank you for making us the #1 Tanner on the Lakeshore! Our team is so excited to see you. We are grateful to be able to open and take care of all your tanning needs.
Stay safe and healthy.
Where the sun always shines!
Your Midnite Sun team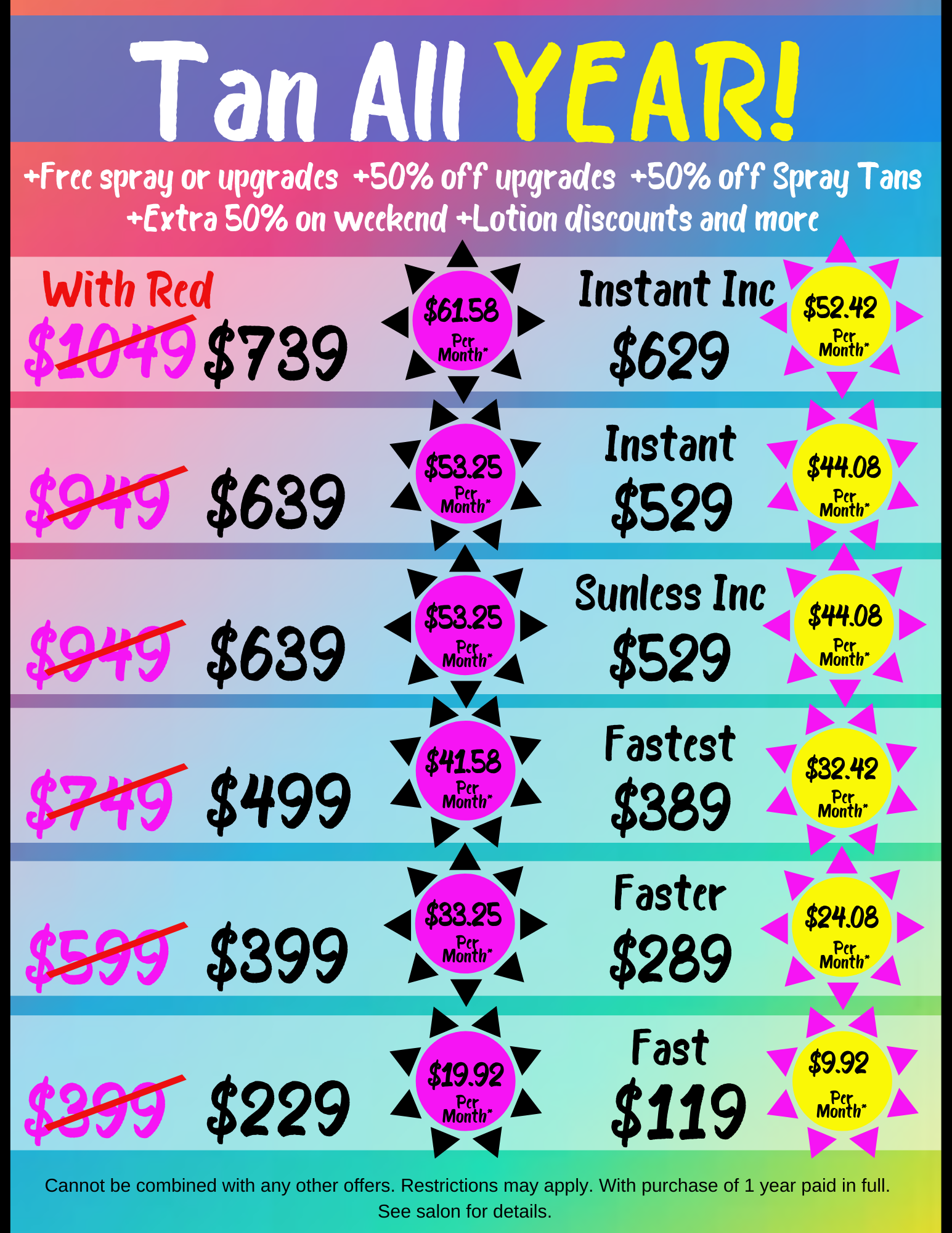 ---
---
---
---
Tanning West Michigan Since 1993!
Midnite Sun has 9 locations in Grand Haven, Holland and Grand Rapids!
We offer 4 levels of UV Tanning + Spray Tanning & Red Light.
The Best Tanning Products
We offer a wide variety of Tanning and Non Tanning products. We seek the best ingredients to ensure your skin looks amazing at all times.
Ultimate Customer Service
Outstanding trained sales team who are trained in product knowledge and know how to help you achieve your best color.
Customized Memberships
We offer a wide variety of memberships to fit your every need whether it's UV, Sunless or Red Light.
363 Days of Tanning
We are open 7 days a week, 363 days a year to help you achieve and maintain that perfect glow!