At Midnite Sun we use Versa Spa Sunless Booths.
These Automated booths gives you privacy, while giving you a flawless, even application.
Our Versa Spa offers what we believe to be the best Spray Tan available by using airbrush technology to give you an amazing glow that you can customize through several different color options.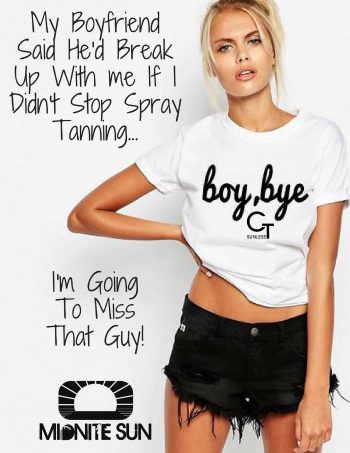 We have 3 colors to choose from to match your skin tone – light, medium, or dark.
Our Pro Clear solution goes on clear without instant cosmetic color while our Pro Bronzer solution gives you an instant boost of color. Both solutions will develop within 24 hours and will last up to 7 days leaving you with flawless looking skin!
Our Hydration Solution is meant to hydrate and nourish your skin during your session and is formulated with Vitamin D3, Caffeine, Avocado Oil, and anti-aging ingredients.
Our Versa Spa utilizes a 3 step process
 Let us Break it down!

So what do we mean when we say Regular or Inclusive?

Regular Spray Tans Include:

Light – Clear, Light – Bronzer, Medium – Clear  & Medium – Bronzer.
Inclusive Spray Tans Include:

Any combination of Light or Medium + Hydration, or Any Combination of Dark
We want to ensure you achieve the best results when spray tanning. Follow these tips before and after your spray tan to ensure you get the best outcome possible!
For The Best Results- Be Sure To Watch and Follow The Instructions On The Versa Spa Video!